Media Kit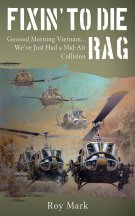 Author: Roy Mark

Foreword: Major Roger C. Baker

Cover Art: Joe Kline


Book Details

Publication Date: 9 October 2014
ISBN/EAN13: 1484135105 / 9781484135105
Page Count: 178
Binding Type: US Trade Paper
Trim Size: 6" x 9"
Color: Black and White
Related Categories: History / Military / Vietnam War
F.A.Q.

What's with the title Fixin' To Die Rag?

One of the pilots in this story was described as a "music nut" by his hooch mates; he had a vast collection of music we now associate with the Vietnam War era. The night before he died in a mid‑air collision, he and his hooch mates drank a little beer and sang along with Country Joe and the Fish's recording of I‑feel‑like‑I'm‑Fixin‑to‑Die‑Rag. It seemed appropriate, and a tribute to him and the men he served and died with, to take chapter titles—indeed the book title itself—from Vietnam era songs. The chapter titles are:
1. Fortunate Son
2. Hello Vietnam
3. Going Up The Country
4. Fire and Rain
5. Back In Vietnam
6. Eve of Destruction
7. Sky Pilot
8. Ride of The Valkyries
9. Remember the Heroes
10. There's A Wall In Washington
11. Spirit In the Sky


What is the author's connection to the story?

While doing research into his family genealogy, Roy Mark learned of the death of a fourth‑cousin in Vietnam. Digging deeper, he learned that WO1 Mark Holtom was killed in a mid-air collision of two Huey helicopters on 26 September 1970. He began writing about that incident and the story expanded into Fixin' To Die Rag: Goood Morning Vietnam… We're Just Had a Mid-Air Collision.


Where can I buy a copy of Fixin' To Die Rag?

Fixin' To Die Rag is available in paperback and Kindle format from Amazon.com and in paperback and Nook format from Barnes and Noble. It is also available from many online retailers such as Smashwords.com, OverDrive.com, and Kobo.com. Fixin' To Die Rag can be ordered from "brick and mortar" bookstores by name or ISBN number 9781484135105.

Print Copy on Amazon.Com's USA site: $13.99
Kindle Copy on Amazon.Com's USA site: $4.99


---
Brief Excerpt:

In the operations center, the minutes passed and the tension mounted. Suddenly, at about 8:15, a Huey came in at low level right over the company area. There was a brief moment of relief as they saw that it was WO1 Reed, the flight leader in 7‑4‑5. Nerves tensed again with the realization that 7‑4‑5 was alone; three Hueys were still out there fighting the storm. Abruptly, the radio crackled to life again with a panicked voice:

"Get off the controls, get off the controls!"

Was that 9‑8‑5? They weren't sure but thought so; it sounded like Bulloch's voice, but they weren't sure. Captain Sharrock began calling Bulloch's Huey, "9‑8‑5, North Flag Three, over… 9‑8‑5, North Flag Three, over..." Again and again they called; again and again the response was dead silence.
Finally a response! It was WO1 Joe Schaefer in 5‑7‑1 reporting that he had diverted to the north—clear of the storm—and would be landing shortly. He said that he, too, had heard the panicked radio call and that it must have been 9‑8‑5 . With the storm waning, Schaefer made it back to base safely a few minutes later.
In the TOC, Captain Baker notified battalion headquarters of the fluid situation. As he spoke, the third Huey, Alpha Company's 0‑9‑5 landed at the north end of the field near Alpha Company's area. With just one Huey unaccounted for, it had to be Bulloch in 9‑8‑5. Then battalion called with the devastating news that they had received a report of a crash to the southeast.