Elephant Dung Bookmark

I was honored to have been invited by Roger Baker and Dan Tyler to the VHPA's Annual Reunion held last August in Washington, D.C. Prior to leaving my home in Thailand, I had some bookmarks make as souvenir handouts.

I gave away many of the bookmarks at the reunion and now find myself with a few left over. I would like to make them available—while supplies last—(first-come-first-served) exclusively to 229th vets.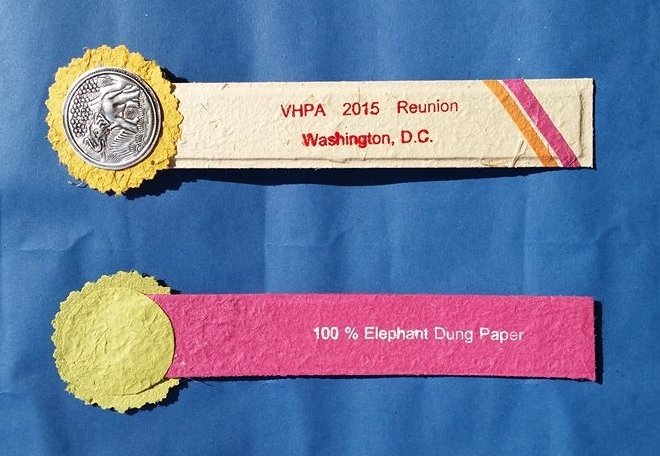 The bookmarks come in a variety of colors. The front is embossed with "VHPA 2015 Reunion" and "Washington, D.C." The back is embossed with "100% Elephant Dung Paper." An aluminum emblem depicting an elephant is affixed to the front.

Each bookmark comes in a cellophane envelope with an insert describing how elephant dung paper is made. The insert also plugs my book FIXIN' TO DIE RAG which most of you know is about C/229th during 1970.

I can offer these bookmarks free, but must ask you to pick up the cost of packaging and First Class Airmail postage from Thailand. An additional charge that must be covered is the credit card fee charged to me (4.4% + 30 cents per transaction). I'm not a big merchant and therefore must pay the max fee. Those cost amount to about $1.62.

Your bookmark will be mailed within three days via Thai First Class Airmail and will be delivered by the U.S. Postal Service. You can expect delivery in ten days to two weeks but occasionally as long as three weeks.

_Click on the "Buy Now" Button to Order
_
---
PayPal and all major credit cards are accepted.

If you prefer mailing a check, please be advised that you must affix a fist class INTERNATIONAL Air Mail Stamp. Please send me an email so that I can set a bookmark aside while waiting for your check to arrive.

Make your Check Payable to: ROY MARK

Mail to:


Roy Mark
P.O. Box 294
Chiang Mai, 50000
Thailand